First of all, congratulations on your personal or corporate subscription to the Signal Integrity Academy. If you are not sure if your company has a corporate subscription, it's easy to check. Click on this link and enter your email (with your company domain) in the box on our web site:

Click the Subscription Check box. If your company has a corporate subscription, a new dialog box opens up with a link to follow to create your  account.
If you don't see this invitation, talk to one of your managers about starting up a corporate subscription or consider purchasing a personal subscription. For less than 1/3 the registration price of a live class, you can view ALL the class content from six different courses I teach plus get soft copies of all the slides and download all the files to run all the hands on labs, all from the convenience of your desk.
While your subscription is current, you can view all the additional content I add through the year. And, you can ask any technical question about any lesson and I respond within a few days. It's a pretty sweet deal.
If you are a new subscriber, follow the steps from the link above to enter your contact info. Here is where you will create a password. It is case sensitive. We use your email address as your user ID.
When you hit the last continue button, our site will send you an email to the address you entered. When you get this email, just click on the confirmation link and your account is set up and you are ready to go.
Come back to the Signal Integrity Academy and log in to then access all the lessons. There are three ways of logging in:
click on the subscriber log-in button on the very upper right of the web page
click on the big blue subscribe now button on the home page and enter your email in the subscription check box. If you have an account set up, you will be given a link to log in.
click on any of the lessons to open it up and you will see the subscribers click here to log in button: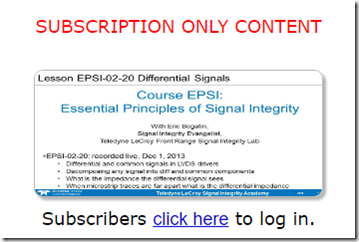 Now you can click on any of the six courses which opens their landing page and view any lesson that looks interesting for you.
Now you are ready to Get The Most Out of the Signal Integrity Academy. Read this post.
Enjoy!